Transform substrates. Transform your business.
HP Latex R1000 Plus Printer
From rigid to flexible, transform almost any material with stunning colors and the glossiest of whites.
HP Latex R Printer Series 2020 Edition, offers improved productivity performance and access to new applications like short-run special packaging or printed thermoforming.
Expand your offering with white, we've removed the barriers 1
Manage your peaks in-house with smart printing
Get more versatility in one device for high-value jobs
Help avoid costly operating errors with an easy interface
Take a tour of our printer!
Get amazing colours, rigid and flexible up to 1.6 m (64 in)
Grow your business into higher value rigid/flexible jobs with vibrant HP Latex gamut, media look and feel.
Gain versatility with HP Latex Ink – from indoor/outdoor signage to thermoforming and high-quality decoration.
Win more jobs with UL ECOLOGO® Certified, water-based HP Latex Inks that produce odorless prints. 2
Manage your peaks in-house with smart printing
Meet production peaks – get high-speed quality up to 15 outdoor boards/hr 4 with belt system, smart vacuum.
Help avoid costly operating errors with an easy interface including advanced queuing and multi-board printing.
Maximize uptime with automatic maintenance and smart service tools for fast diagnosis and issue resolution.
Maintain control of your production and costs with the help of HP PrintOS software tools.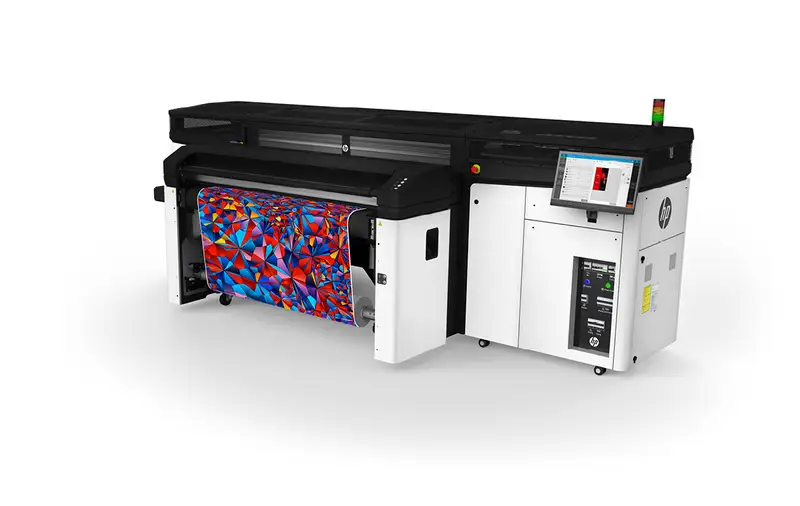 Glossiest white based on internal HP testing in January, 2018 compared to the HP Scitex FB750/FB550 Printer using UV-curable ink technology. White ink measured for the level of gloss at 60 degrees on a rigid material (acrylic). Tested using Glossmeter BYK micro-TRI-gloss (20°, 60°, 85°), compatible with ISO 2813 and ASTM D523 relative to glossiness measure. High opacity and resists yellowing over time based on internal HP WeatherOmeter testing October, 2017 with 1 dot-per-pixel
HP Latex Overcoat, on a range of rigid and flexible unlaminated substrates. Yellowing based on L* and B* of white underflood samples.
HP Latex Inks are UL ECOLOGO® Certified. UL ECOLOGO® Certification to UL 2801 demonstrates that an ink meets a range of multi-attribute, lifecycle based criteria related to human health and environmental considerations (see http://www.ul.com/EL). There is a broad set of media with very different odor profiles. Some of the media can affect the odor performance of the final print.
When HP 886 White Latex Printheads are placed in the storage cassettes, no white ink is used for servicing when printheads are not in use.
Outdoor mode 3-pass, 70%. On 1.2 x 2.4 m (4 x 8 ft) boards.
HP – recognised among the most sustainable corporations in the world1
Whether you're concerned about regulations, your customers are becoming more green-sensitive, or you care about your operators, you may be interested in the environmental advantages of HP Latex against eco-solvent technology. As part of one of the most sustainable companies in the world, HP Latex continues to lead the change in sustainable signage printing.
A commitment to more sustainable signage
HP's newest Latex Technology carries a broad set of credentials addressing the full spectrum of environmental concerns; from ink chemistry and indoor air quality—for both print production and display—to lifecycle considerations, earning recognition for products as environmentally preferred overall.
HP Latex customers can gain sustainability knowledge and a
competitive edge by completing the free HP EcoSolutions
Trained Printing Company program.
Do you have a printing request or a question?
What Are You Waiting For...
We offer most convenient, economical and friendly way to order Business printing. Future use of specialist printing processes through: knowledge, education, best practice.